Transformational change and flourishing services
« The sage is self-effacing and scanty of words. When his task is accomplished and things have been completed, all the people say, "We ourselves have achieved it!". »  Lao-Tzu (570 – 490 BCE).
Specialized in transformational change and flourishing, we contribute to a better world teaming for excellence in practices leading to a sustainable increase in well-being and performance in organizations, people and teams.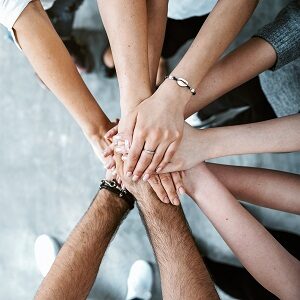 Terms of Service
This website (Website) and the services available through this Website (Services) are operated by Gallifa & Partner LLC (Company, we, our, and us) and any other legal entity duly mandated or contracted by Company to operate on its behalf (e.g., JCS Disseny)  These Terms of Service constitute a legal agreement between you (you, your, the user, and the customer) and Company.
Reliance on Information Posted
The information presented on or through the Website is made available solely for general information purposes. We do not warrant the accuracy, completeness, or usefulness of this information. Any reliance you place on such information is strictly at your own risk. We disclaim all liability and responsibility arising from any reliance placed on such materials by you or any other visitor of the Website, or by anyone who may be informed of any of its contents.
Personal Data
We take the protection of your privacy seriously. This Company agrees that it will only use and process your personal information in accordance with the terms of the Company Privacy Policy (Link) (Privacy Policy), which is incorporated by reference into these Terms of Service. By agreeing to these Terms of Service, you are also agreeing to the Privacy Policy.
Prohibited Uses
You agree that you will not:
Use the Website for any purpose that is unlawful or contrary to these Terms of Service;
Use the Website in any manner that could damage, disable, overburden, or impair the Website or interfere with any other party's use and enjoyment of them;
Attempt to gain unauthorized access to any Website account, computer systems, or networks associated with Company, or the Website, or the Services ecosystem;
Obtain or attempt to obtain any materials or information through the Website by any means not intentionally made available or provided for by Company;
Use any robot, spider, or another automatic device, process, or means to access the Website for any purpose, including modifying, monitoring, or copying any of the material on the Website;
Introduce any viruses, Trojan horses, worms, logic bombs, or other material which is malicious or technologically harmful;
Attack the Website via a denial-of-service attack or a distributed denial-of-service attack; or
Impersonate or attempt to impersonate the Company, a Company employee, another user, or any other person or entity (including, without limitation, by using email addresses or screen names associated with any of the foregoing).
Content Available on the Website
The Website and all content offered through it, including, but not limited to, text, third-party applications, photos, graphics, reports, posts, and everything else you see, hear and use through the Website (Content) are intended to provide information only and are solely for your personal and non-commercial use. You may not sublicense, transfer, or otherwise make available any of the Content to any third party for commercial purposes. You may not modify the Content without first obtaining written permission from the Company.
Intellectual Property Notices
Content and Website are protected by copyrights or are subject to other proprietary rights. This means that anyone using the Website is not permitted to use the Content in any manner, except as expressly permitted by Company in this Terms of Service agreement, or similar agreements of others who have licensed their content to Company, as expressly permitted by those other parties' respective Terms of Service or similar agreements. Also, any of the names and logos (which are commonly referred to as "trademarks") that appear on the Website are owned by Company or others who have licensed their use to Company. The trademarks may not be used in any manner without the prior permission of the owners.
You acknowledge and agree that you are solely responsible for complying with the applicable restrictions on the use of any and all of Content and trademarks that you see, hear, and use on the Website. You understand that any unauthorized use of the trademarks or Content would result in irreparable injury to Company for which money damages would be inadequate and in such event, Company will have the right, in addition to other remedies available at law and in equity, to immediate injunctive relief to prevent any such unauthorized use.
You further agree to hold Company harmless and to indemnify Company for any and all direct or indirect damages that do arise as a result of your violation of any applicable policy.
Company may have patents, patent applications, trademarks, copyrights, or other intellectual property rights covering subject matter in the Website, including pages that are part of the Website. Except as expressly provided in these Terms of Service, the provision of Company's services and the furnishing of such pages to you do not give you any license to these patents, trademarks, copyrights, or other intellectual property. Any rights not expressly granted herein are reserved.
Warranty Disclaimer
Company makes no representations or warranties about the suitability, reliability, availability, timeliness, and accuracy of the information, and Services contained on or obtained through the Website for any purpose. All such information and Services are provided "as is" without warranty of any kind. Company hereby disclaims all warranties and conditions with regard to this information and Services including all implied warranties and conditions of merchantability, fitness for a particular purpose, title, and non-infringement.
Limitation of Liability
In no event will Company be liable to you or any third person for any indirect, consequential, exemplary, incidental, special, or punitive damages arising from, relating to, or in any way connected to the Website. Notwithstanding anything to the contrary contained herein, Company's liability to you for any cause whatsoever, and regardless of the form of the action, will at all times be limited to the greater of the amount paid, if any, by you to Company during the preceding twelve (12) month period preceding your claim.
Third-Party Applications Disclaimer
You acknowledge that your access and use of any third-party applications, or software, or services on the Website as part of Company's Services and Content (the Third-Party Services) is at your discretion and risk, and Company has no liability to you arising out of or in connection with your use of the Third-Party Services. Company hereby disclaims any representation, warranty, or guaranty regarding the Third-Party Services, whether expressed, implied, or statutory, including, without limitation, the implied warranties of merchantability or fitness for a particular purpose, and any representation, warranty, or guaranty regarding the availability, quality, reliability, features, appropriateness, accuracy, completeness, or legality of the Third-Party Services, and you agree to indemnify and hold Company harmless for any direct, indirect, punitive, incidental, special, or consequential damages, or any damages whatsoever including, without limitation, damages for loss of use, arising out of or in any way connected with the use or performance of the Third-Party Services.
Customer Support
If you have any questions about the Website or any problems that you would like to report, please contact us at hello@gallifa.ch.
Termination and Restriction of Access
In its sole discretion, Company may terminate or suspend your access to the Website for breach of these Terms of Service or inactivity, or for any reason it deems appropriate. Any cancellation or termination by you or Company shall not relieve you of any obligations to pay fees accrued prior to such cancellation or termination.
The Website and Services may be discontinued at any time without notice or refund, except for services paid for and not yet rendered by Company. Company shall not be liable for any losses or damages arising from any such termination of service.
Governing Law and Jurisdiction
These Terms of Service are governed by the laws of the Canton of Vaud, Switzerland.
General
You agree that no joint venture, partnership, employment, or agency relationship exists between you and Company as a result of these Terms of Service or use of the Website. You may not assign these Terms of Service without the prior written consent of Company in all instances. Company may assign these Terms of Service, in whole or in part, at any time. Company's performance of this agreement is subject to existing laws and legal processes, and nothing contained in these Terms of Service is in derogation of Company's right to comply with governmental, court, and law enforcement requests or requirements relating to your use of the Website or information provided to gathered by Company with respect to such use.
You agree to indemnify and hold Company, its partners, associates, affiliates, officers, employees, and agents, harmless from any claim, demand, or damage, including reasonable attorneys' fees, asserted by any third party due to or arising out of your use of or conduct in connection with the Website.
If any part of these Terms of Service is determined to be invalid or unenforceable pursuant to applicable law including, but not limited to, the warranty disclaimers and liability limitations set forth above, then the invalid or unenforceable provision will be deemed superseded by a valid, enforceable provision that most closely matches the intent of the original provision, and the remainder of these Terms of Service shall continue in effect.
These Terms of Service, including the Privacy Policy and all other documents expressly incorporated herein by reference, constitute the entire agreement between you and Company with respect to the Website, and supersede all prior or contemporaneous communications and proposals, whether electronic, oral or written, between you and Company.
A printed version of these Terms of Service and any notices given in electronic form shall be admissible in judicial or administrative proceedings based upon or relating to this agreement to the same extent and subject to the same conditions as other business documents and records originally generated and maintained in printed form.
Limitation on Time to File Claims
Any cause of action or claim you may have, arising out of or relating to these Terms of Service or the Website must be commenced within one (1) year after the cause of action accrues, otherwise, such cause of action or claim is permanently barred.
Agreement
Please read this Terms of Service carefully before you start to use our Website and related Services. By accessing and using the Website and related Services, you accept without modification all of the terms, conditions, and notices contained in these Terms of Service. If you do not agree to these Terms of Service or the Company Privacy Policy (Link) you must not access or use the Website.
Changes to these Terms of Service
We may amend these Terms of Service without prior notice at any time. The version published on our website is the version currently applicable. If we make any changes to this Terms of Service, they will be posted on this page. You can get to this page from our website by clicking on the Terms of Service link. We will always date these changes so you know if you are looking at a changed version.
Your continued access to or use of the Website after any such change shall constitute your consent to such change. Unless explicitly stated otherwise, any new features that change or improve the Website shall be subject to these Terms of Service, as modified from time to time.
How to Contact Us
We value your opinions and welcome your feedback. To contact us about these Terms of Service, please contact us at: hello@gallifa.ch.
Status per June 2022